The Richard Branson of the township!
This post is also available in:

Nederlands (Dutch)
I always thought that a township is the place where the poorest people live. And although I need to adjust that prejudice for Soweto, it does not apply for the township of Alexandra. About 800,000 people live in Alexandra. Maybe this township is not as famous as Soweto but in Johannesburg it is at least as notorious. A year and a half ago when the xenophobia was at a peak, this was also the township where many attacks on (black) foreigners took place. On my first tour of the city this was the township of which our guide immediately said:  YOU should definitely not come here. So, I didn't really know what to expect when I first went to Alexandra. Like they often say here: safety first, so I booked a tour to view this part of Johannesburg.
We were picked up by Jeff at the Gautrain Station Marlboro Drive. This is a such a strange paradox. A super modern subway station built next to a township where the poorest live. And surprise, surprise, there were four other white people, standing with a young black African, so you know you're in the right place! It still remains weird to be the only white person between all black people. It is so clear that you are different. The question is always: am I watching them or am I being watched?
Alexandra is a township full of shacks. A shack is about two by three to four meters with a corrugated roof. Those 6 to 8 square meters are living room, bedroom and kitchen all at the same time. Where is the bathroom you might ask yourself? The people share their bathroom so you can find it outside. Urinating in the bush, but then different. But what might be almost as irritating: all these people live so terribly close together… The shacks are glued to each other and  radios and TV's are all set on volume 10. During the whole tour there is nowhere a moment of silence. But also not a real moment of privacy. Sharing is caring gets a completely different meaning during this tour. The people do everything with each other: they live so close to each other that there is actually no room to do your 'own' thing. You have people around you constantly. Add to this the unemployment and alcohol abuse and it is no wonder that riots happen frequently.
What I really like about Jeff is that he is very positive about Alexandra. He is clearly proud of the township and its residents. He takes u along to two entrepreneurs, a gym owner and a shoe cleaner. I am amazed. Alexandra is known as a ' low class ' township. As with any other township there is a local economy. The township economy focuses mainly on the first needs of the (poor) residents of the township. A gym and a shoe cleaner don't seem to match that image, but I think it is nice!
We first met Tumi, a former boxer who now runs a gym. He called it 'Ikasi Gym' and that means independent, resourceful, inventive. And that's exactly what it turns out to be! Gym is maybe at bit euphemistically, but there are a lot of fitness machines and weights in a space that is as large as two shacks. It turns out that Richard Branson has donated it to Ikasi Gym. On the wall posters hanging of Tumi in his heydays. A yellowed newspaper picture of him and Arnold Schwarzenegger hangs prominently in the middle and of course music pops out of the boxes. It's got a gym vibe all over the place! Especially in the morning and evening it's loaded with people. He offers a safe environment. I am positively surprised, but that says a lot about my prejudices. Th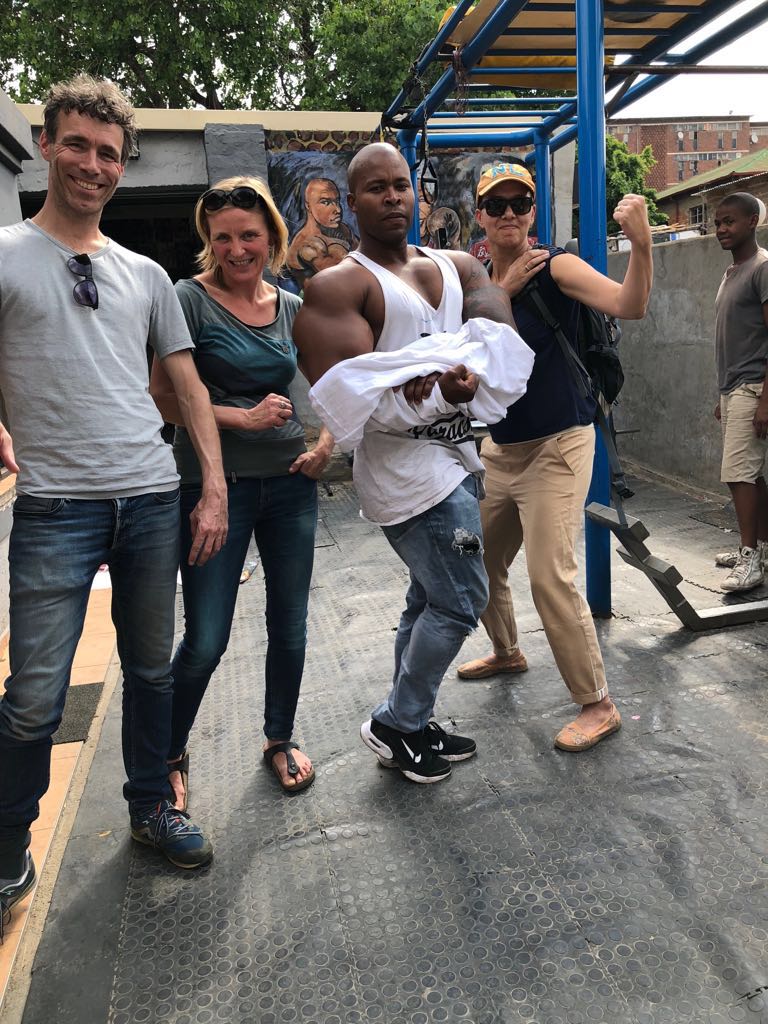 e second entrepreneur where we took a look is a young guy who cleans sneakers. I ask him how much it costs to clean your sneakers. It seems to me it's not your first priority if you live in Alexandra. He indicates that it is about 50 rand at a time. Wow! The average domestic earns about R3800-4400 per month. But he indicates: ' Most of my clients don't live in Alex '. It appears that his customers are mainly children of Alexandra's inhabitants. Those who ' made it ' and return once a week to visit their parents. It also explains why we see people driving really expensive cars in the middle of the township. In Holland we have a saying: Just be normal then you're crazy enough. Here the motto is more: 'If you have it, flaunt it'!
And that things are going well, is obvious when our shoe cleaner tells us that he bought an ice maker machine. Smart move. Maybe you don't need your sneakers to be cleaned but an ice cream is something everyone can buy. And so as real 'mzungu' we walked through the township licking our scope of ice cream…
Only in South Africa!