The place to be: the Virgin Active gym
This post is also available in:

Nederlands (Dutch)
If you like sports, you are in the right country! Gyms in abundance and I kid you not: It also seems like everyone here goes to the gym because every time I do my groceries, I see people walking around in their sportswear. It doesn't matter if this is early in the morning or late in the afternoon. Seriously, sometimes it seems as if people don't have to work, but are in the gym all day. It's bros and bras everywhere!
And they are also no sissys, those South Africans. A bit of recreational work and then a nice beer after your training, I haven't really seen. Like wannabe-Olympians they train for example for the Two Oceans. A marathon plus because why should you stop after 42 kilometers if you can also run 56? And in addition, you also have the real sport freaks… They participate in the Comrades Marathon, where you can cross the finish line after 87 kilometers. If you think you will only find fit people in their twenties or thirties in the gym, you'll be disappointed. It's like walking through the city and enjoying a terrace to watch people: you literally see everything coming by! White & black, young & old and thick & thin. Amazing!
Funny to note that in this coun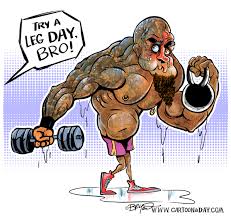 try there is a different culture when it comes to how you remain ' in shape'. For example, there are many guys in the gym that are really pumped. I have to say, I'm not averse to a sixpack, but these men have arms they can't keep straight next to their body. But if you asked them to sprint to the other side of the street you would win. In my opinion, the anabolic culture hasn't reached its climax yet. It's a bit too much. And what also is a bit too much… The tattoos. I prefer to hang a drawing on the wall. That's also a lot less painful if you want to replace it.
And as for the women: natural beauty isn't quite their thing here. I see a lot of women groomed to the point. I am most accustomed to the Dutch ' fresh look '. Women who want to look like they didn't use makeup. But What's The Fun In That?  women probably have thought here. Many women wear quite heavy makeup. It makes them look older than they actually are. What I find very contradictory with the fact that they are doing their best to look younger. Middle-aged women have regularly erected an eyelid, lifted a breast or two or filled a wrinkle. And no, they don't find it weird in South Africa, but perfectly normal.
They take themselves seriously when it comes to sports so just standing on a treadmill without a heart rate monitor is out of the question! And for those who find that too little… There are also gym visitors with dehydration meters and body fat calipers thickness gauges… To measure is to know… But the gym is also going along with this trend. They don't have ordinary spinning bikes where you can only change your resistance. No, they want to monitor the entire training and your bike will light up in green, orange or red, depending on in which zone you're training.
And it's not just about what you do, but also what you're taking. Every pound goes through the mouth. So the Foodies trend has definitely landed in South Africa. There are many followers of the Banting diet, which resembles Atkins. High in fat and protein but low in carbohydrates. Fajah Lourens, thè Dutch fitness queen,  would do well with her ' killer body '!