OMG! My mom just got bitten by a snake!
This post is also available in:

Nederlands (Dutch)
At that time my heart skipped a beat, but not for the right reasons. I watched too many National Geographic documentaries… This kind of thing never happens to you or your loved ones in real life, you just know about it because you saw it on the television. Until now. We went with my parents on safari in Pilanesberg. A safari park nearby. We just came back from our afternoon game drive, we went to freshen up and then we would have dinner in the lodge. The moment we went into the main room, our hostess Sara walked to us and said: 'Don't panic… Your mom has just been bitten by a snake'. 'What?!'
The snake is cornered and when I take a look my first thought is: this just looks like a very long earthworm or a centipede. I imagined it would have had the size of a cobra or a puff adder (thanks again to National Geographic). Remarkable, that I think that size matters in the equation of how toxic an animal is despite the overdose of documentaries about snakes that nowadays is on TV. Let's just say that this was not one of my most brilliant thoughts.
There are two rangers in the room and they identify the snake immediately. ' It's not life-threatening'. ' Yeah! ' I feel relieved. But then he goes on: ' But,… ' ' No, no, no but, just not life-threatening.' It turns out that my mother needs treatment and that this particular snake is responsible for most body mutilations In South Africa. In other words, without treatment, she would arrive with 10 toes but leaving South Africa with only 9. They say she'll be admitted to the hospital for probably two or three days and it's going to hurt very, very much. Right, this is worst case scenario and normally the glass is half full, but since I know nothing of snake bites, I notice that I am somewhat becoming restless.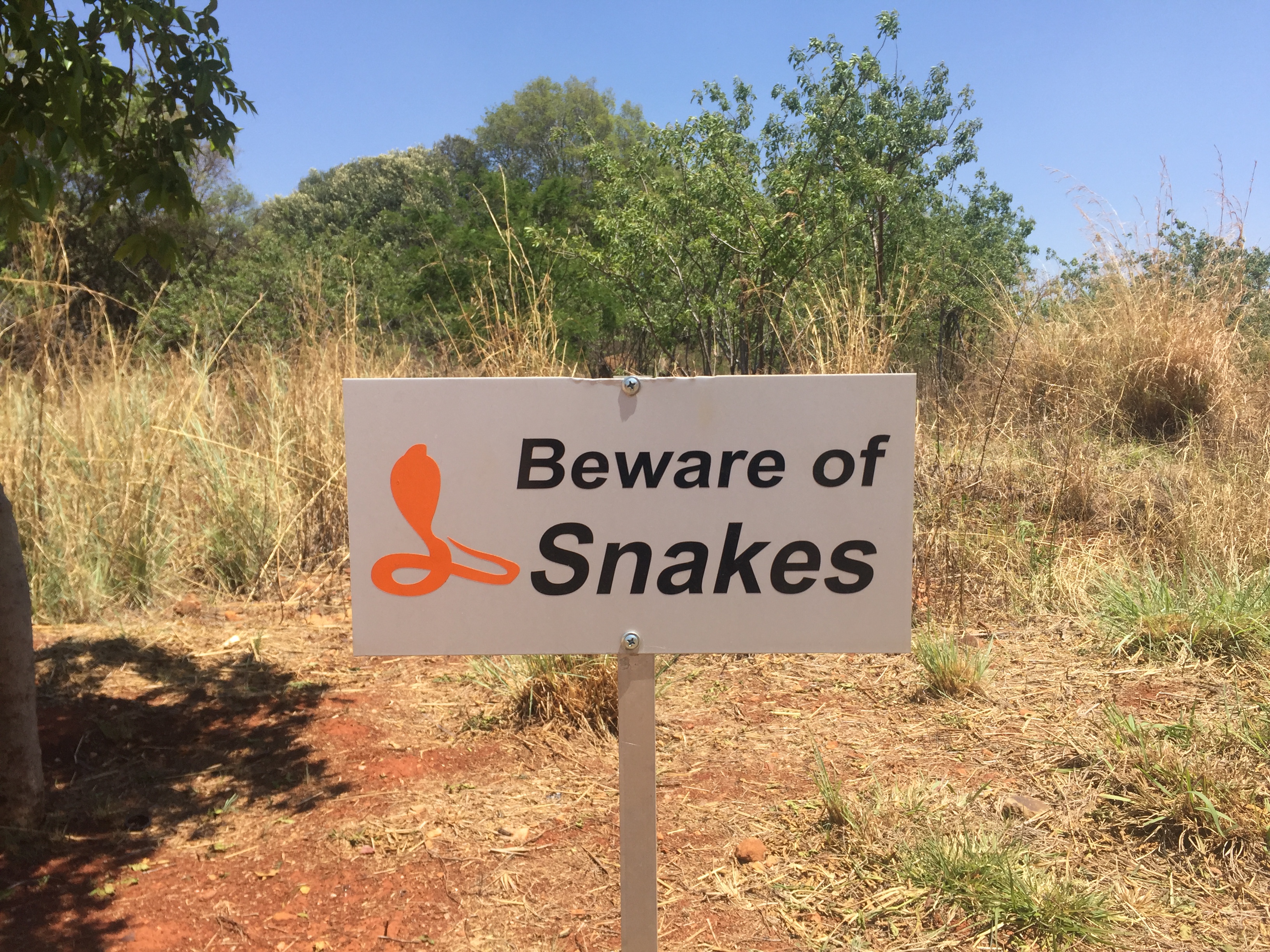 It doesn't help that the ambulance is only arriving after 45 minutes and the pain has increased in intensity… What also doesn't really help is that I am wondering whether the ambulance staff is skilled and can make the right judgment about the severity of the situation. First, they do not succeed in putting the drip together and the blood flows a little bit too abundantly. Secondly, the drive to the hospital takes a very long time and I wonder within how many hours the anti-venom must have been administered exactly so that the poison cannot cause permanent damage. Make hast, make hast!! (And if you ever find yourself in the same situation, this is the golden rule: Do NOT google information about the effects of a snake bite because Google will show you all kinds of images of affected hands and feet it does not ease you down). But what really got me questioning the ambulance guys… 'Is It ok if we stop at the next petrol station to get some energy drinks? ' 'Are You F…. Kidding Me?'
When we arrived at the hospital, We first need to pay in advance to be admitted to the ER. No pay no cure…. One advantage: The ER is not too full. But it's weird to experience that only treatment will take place after you've paid. In Holland, it's the other way around. First, they help, then payment follows (but in Holland everyone has medical aid, so not really a fair comparison to make). So, it takes a while before my mom gets painkillers or the anti-venom. Afterward, she needs to be admitted to the ICU but by then her Dutch medical aid has already – on this Sunday evening – contacted the hospital. Medical costs made will be paid in full. It's weird how happy you can be with the Dutch way of überorganizing things. Thank goodness my mother appears to be her good old self again after a few days. And with all her ten toes!