Ponte Tower: a representation of South Africa's history
This post is also available in:

Nederlands (Dutch)
The District Hillbrow is notorious and infamous, and not just In Johannesburg. Just read any travel guide and it was strongly advised not to walk around as a white person. But what makes Hillbrow so distinct? And what makes the Ponte Tower so special? This cylinder-shaped tower was built in 1975, 173 meters high and is hollow inside. It was then the tallest skyscraper where people could reside. The view over Johannesburg is great. If there is one building that represents the recent history of Johannesburg, then it is this tower though.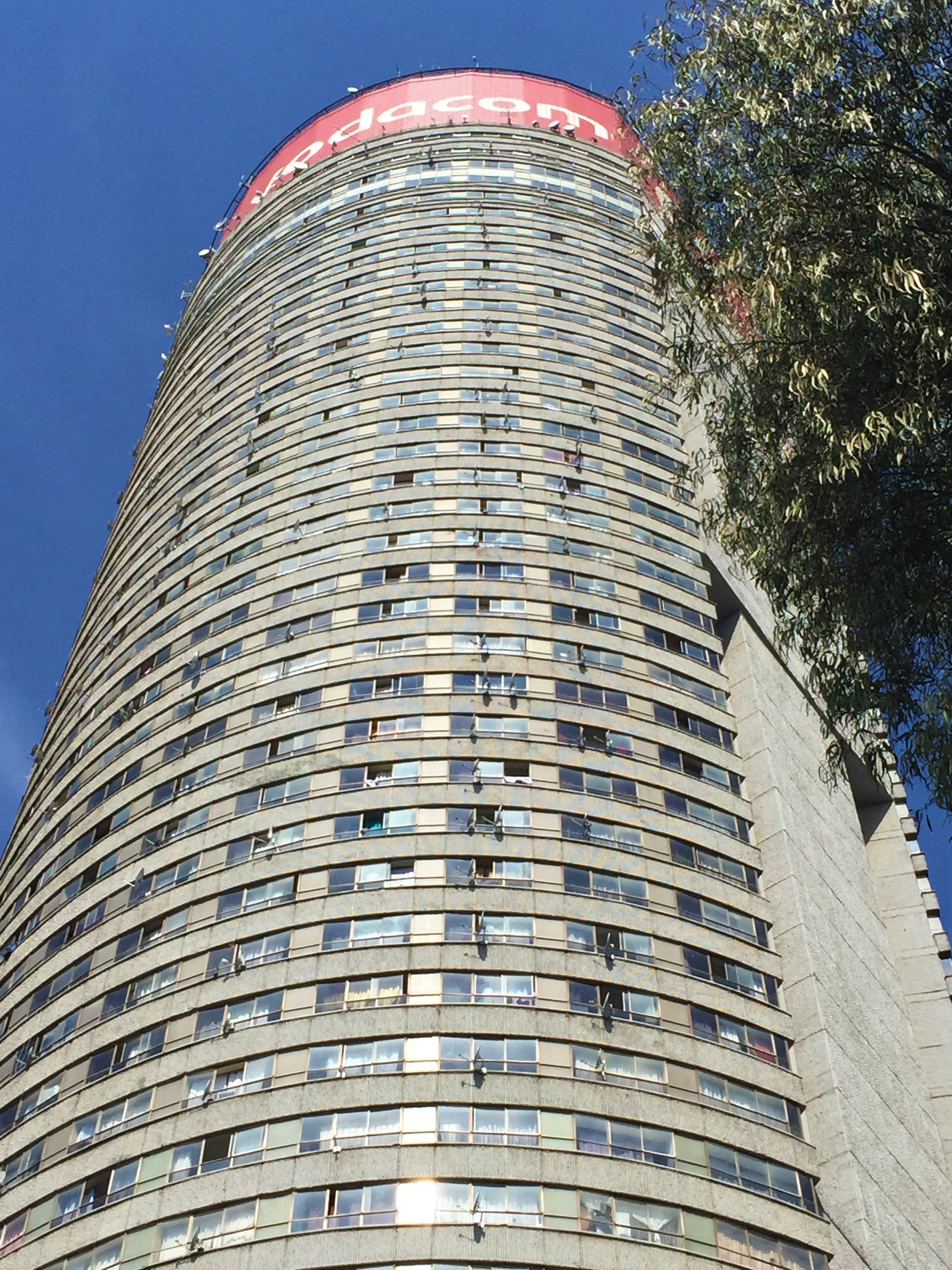 The story from scratch to now: Hillbrow was the harbour for liberal people in South Africa in the 1970s and 1980s. The ' normal ' district in South Africa was white or black but not mixed. Except for Hillbrow… This was the business- and entertainment center in the heart of Johannesburg. Were you a hipster? Hillbrow was the place-to-be with the Ponte Tower as an icon of decadence and wealth. It did not matter if you were white, black or Indian… Penthouses on the upper floors, jacuzzies, parties where alcohol and drugs were used to a large extent. Ponte had it all. But it was a thorn in the eye for the apartheid regime. To put an end to these freeboots mentality, all the facilities were closed in one day. No water, no electricity and people pulled away from Hillbrow. Until 1990 the apartheid was abolished and the black population pulled away from the townships and moved in large numbers to Hillbrow and Berea. Ponte was cracked by gangs. The violence thus increased explosively. A kind of exodus took place. Black inward, white outward. And the Ponte Tower became the icon of everything that was wrong: violence, drugs and prostitution.
Ponte is however the most famous for its waste 'mountain' inside the tower. Remember, it is hollow inside. Residents just threw everything down. At its height, this 'waste mountain' was apparently somewhere between 5 and 14 stores high. The weirdest stories go around… about the height of this heap, but also what you could find in it (dead animals, people that committed suicide). You might have seen more of the building than you think. Several film scenes have been recorded there, such as a fight scene of Resident Evil. It is a good movie set. Ponte is built on a cliff and the catacombs look frightening and like a landscape of the moon.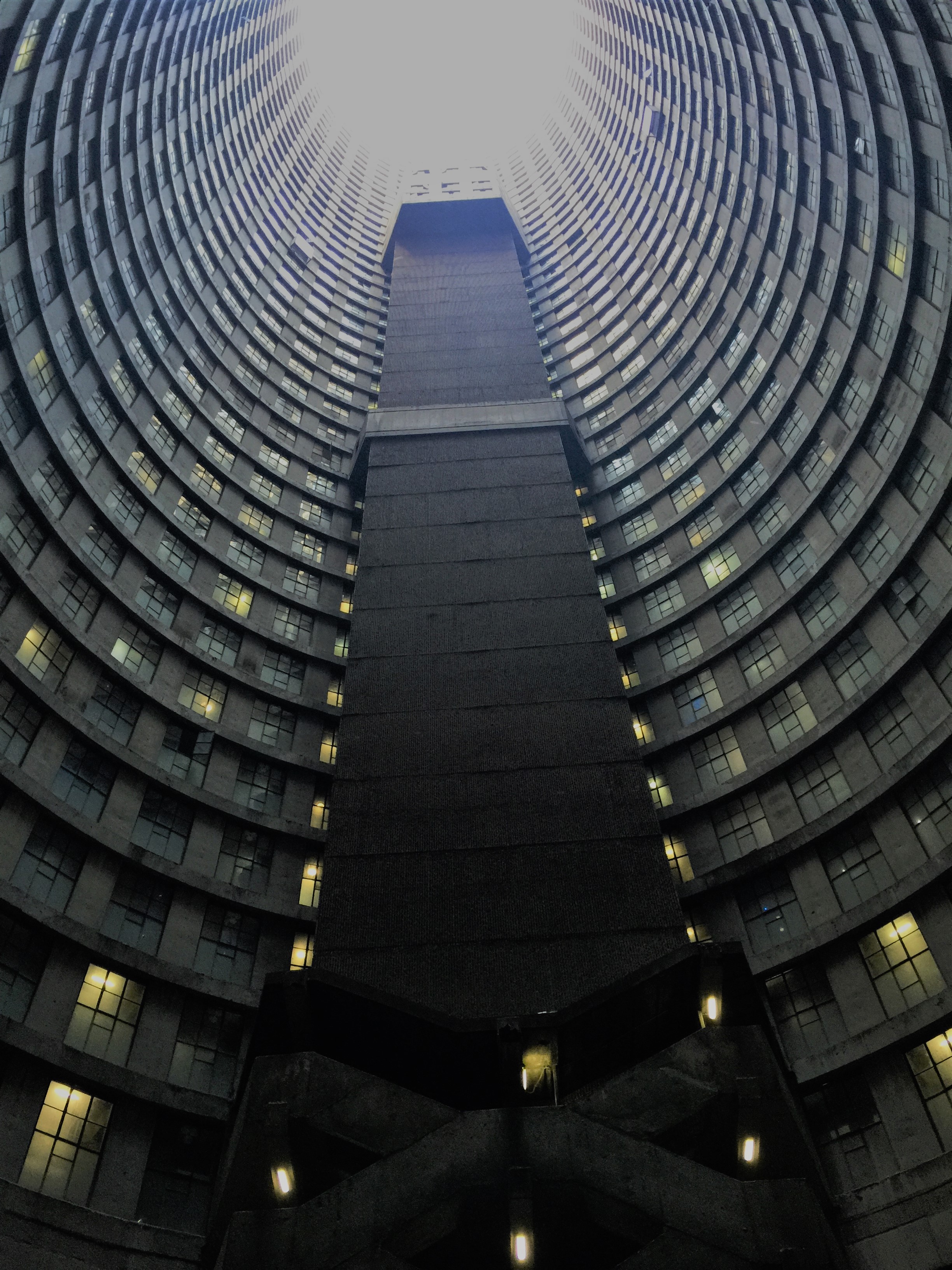 Nowadays, Ponte is a tower for the middle class and reasonable well secured. Without a pre-approved fingerprint, you won't come in. Especially black people live there and a few whites. Since we are still curious about this building, we booked a tour with Dlala Nje. When we park our car at the bottom of the tower I feel I don't belong there. At the same time, This is the real Johannesburg. A resident tells us that it is good living in the Ponte Tower. However, the management is very strict. If you do not pay your rent, you will be immediately evicted from your home after a few days. The question that remains is whether Ponte is now free from discrimination. Maybe not based on skin colour, but now based on economic inequality. To that extent, Ponte remains to depict the history of South Africa. Apartheid has been abolished but discrimination on the basis of gender or for example economic inequality still happens every day.