How do you survive Johannesburg?
This post is also available in:

Nederlands (Dutch)
'A group of 36 Dutch tourists have been raided in Johannesburg '. These headlines won't help the reputation of Johannesburg. To be honest, if something happens here, it is accompanied by a certain degree of violence that is unknown to the Netherlands. Armed robbery, carjack, murder, an ordinary theft seems to be very rare here. Johannesburg is not for sissys they say. If we have friends over, they often ask me: How dangerous is Johannesburg? Are you driving through a red light at the traffic light? And do you always have windows and doors locked? In short: No idea, no and no. If you would ask me these questions about Rotterdam, you would get the same answers. But would I walk alone on the streets in the evening like I would in Rotterdam? Well, no… So what's exactly different?
Let's start with the way of living. Actually, we live in a kind of fortress, but then in the 21e century. Large, thick walls surround our estate and while there is no drawbridge, we have a gate where you only get access based on your fingerprint. It's a hassle before you can go in, but once you're in you're in!  And when you're inside the walls, you really don't notice any of those security measures. We sleep with doors and windows open, leave the keys in the lock of the front door and have no alarm system in our house. Does this focus on security makes it feel like a jail? Strangely enough not… As the postman belongs to the street image in the Netherlands, in South Africa guards just blend in… It feels like coming home when I pass the gate and the guards greet me with a 'welcome home!' Just one tip: don't joke about all these 'security procedures' because you'll get a sermon that would make  a pastor jealous! As if you are at Schiphol Airport joking you're carrying a bomb…
But outside the estate? How do you 'survive' there? A lot of times you're in a car. Not so much because of safety, but Johannesburg is just so vast that you won't get anywhere without a car. I prefer to drive with the windows open and the doors locked. What often occurs here is a smash & grab. While you're waiting for the traffic light to jump back on green, your window will be smashed and your bag is grabbed. Driving with my windows open, will at least saves me a car window! I must admit, I'm driving a Land Rover Defender and this car is just too high to fall victim to a smash & grab. So I drive around pretty relaxed. Nevertheless, I have developed a new habit that will make my driving instructor very happy: I have never looked so much in my mirrors. Not so much to look at which cars are driving where, but to follow where every street vendor goes to when I have to wait at the traffic light. Like a Dutch saying: preventing is better than curing..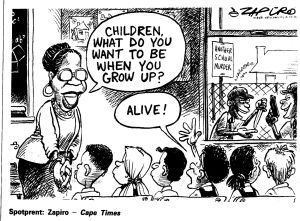 I also get questions like: Can you go everywhere or are there neighborhoods that you avoid? Of course there are neighborhoods that I avoid. That's common sense, but I think more neighborhoods are accessible than some South Africans think. I have worked in Maboneng, a hip neighbourhood, next to Hillbrow, one of the most notorious districts of Johannesburg. Some South Africans thought I was crazy when I told them that I worked there. They believe that the old centre where Maboneng And Hillbrow are located, really is a NO GO area. I never felt unsafe except when I followed Google Maps to drive home and came through all sorts of neighborhoods that didn't feel very pleasant. And a Land Rover Defender really is a white men's car so you're easily noticed as someone who doesn't belong there…
What I would not do in the Netherlands: give a hitchhiker a lift. This seems a contradictory in a country where crime rates are so high, but public transport is simply not everywhere, and people sometimes have to walk so long to arrive at the destination. Giving a lift for a few kilometers, can save an hour of walking. The biggest danger? A non-fresh smelling hitchhiker: deodorant is a luxury that is not for everyone…